Welcome to Allied Physicians
and Rehab of Southern Illinois.
Serving Southern Illinois for 25 years!
THE ILLINOIS CHIROPRACTIC SOCIETY NAMES DR. JULIE BIRD RECIPIENT OF THE PRESTIGIOUS 2016 CHIROPRACTIC PHYSICIAN OF THE YEAR AWARD.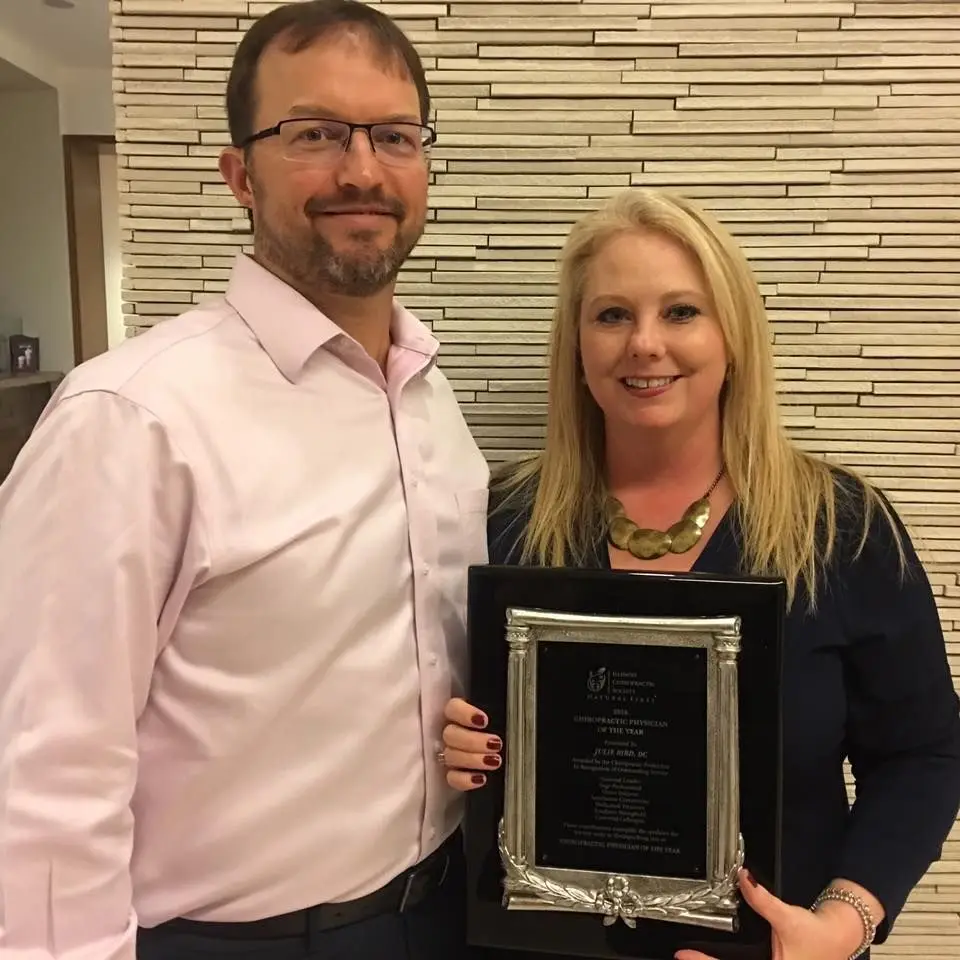 The Illinois Chiropractic Society (ICS) has recently announced Dr. Julie Bird, DC as recipient of the 2016 Chiropractic Physician of the Year Award. This award is the most prestigious award given to a chiropractic physician in the state of Illinois. Dr. Bird, a practitioner in Carbondale and co-owner of Allied Physicians and Rehab of Southern Illinois, SC, was selected for her visionary leadership and motivated contributions in the chiropractic profession in Illinois, nationally, and globally. Dr. Bird has proven to be a stand out in her field and is passionately dedicated to the outstanding treatment of her patients.
Dr. Bird grew up in Centralia and Sandoval, IL. Upon graduating from Palmer College of Chiropractic in Davenport, Iowa, Dr. Julie Bird and her husband, Dr. Brian Bird D.C. returned to southern Illinois. Together in 1995 they opened a chiropractic and wellness facility that provides, chiropractic, massage therapy, and physical therapy in Carbondale, IL.
In addition to her abilities and her efforts in her profession, Dr. Bird has volunteered with a large number of organizations in her community. Globally, she and Dr. Brian Bird volunteered for a chiropractic medical mission trip in 2014 with CHIROMISSION, where she served as a chiropractic volunteer in places such as a psychiatric facility, Haitian villages, several local schools, and in a children's home with severely disabled youth.
Dr. David Flatt D.C., Past President of the Illinois Chiropractic Society who practices in St. Charles, IL said of Dr. Bird and the award, "Dr. Julie Bird, D.C. has proven herself both as a gifted clinician and outstanding leader. Her commitments of time, talent and vision made her a unanimous choice for the Illinois Chiropractic Society's Chiropractic Physician of the Year Award"
The Illinois Chiropractic Society (ICS) stated that Dr. Bird has made time to serve on the Illinois Chiropractic Society board since 2001 including serving as President in 2013 and 2014. She led the board through a refocus and movement towards increasing chiropractic utilization. Dr. Bird currently serves as the Illinois Representative to the Congress of Chiropractic State Associations.
Retired Carterville school teacher Catherine Ziegler was excited to hear about the award, "Dr. Julie has taken care of me for several years and is always quite professional, but she also takes an interest in me personally as well."
Steeleville resident Mary Jane Kingston added, "I congratulate Dr. Julie on her award. I have been to a quite a few chiropractors in my life and the care I get from her is outstanding."
Our chiropractic office is located at 1100 West Main Street, in beautiful Carbondale, IL. There's nothing we want more than to be able to contribute to your health and well-being. We have been serving the families of Southern Illinois for 25 years. Our patients are from Carbondale, Murphysboro, Desoto, Anna, Carterville, Herrin, Marion, DuQuoin, Vienna, Elkville and many other towns around Southern Illinois.

Are you living in pain?

Even if you're uncertain about whether chiropractic can help with your condition, you have nothing to lose by paying us a visit.
Are you suffering from major, chronic pain in your back, your legs or your neck? Are you constantly bothered with the nagging aches and pains we all seem to develop just from living life? Do you get headaches more than 1 time every three months?

You can come in, discuss your problem with us and find out whether we can help you with the natural healing techniques of chiropractic care. All for free.

Chiropractic treatment may be able to help. In fact, you might be surprised at the range of ailments and illnesses that may be improved through chiropractic treatment.

Did you know for example, that chiropractic treatment can sometimes help with chronic headaches and migraines? Did you know that chiropractic treatment can help with Carpal Tunnel Syndrome?

So if you are living in pain, our question to you is, "Why?"


We're Here For YOU!
Call us today at (618) 529-5172 to set up your initial exam. Find out how chiropractic care can help you live a healthier, more comfortable life.
Patients seeking chiropractic treatment at Allied Physicians and Rehab of Southern Illinois can be assured that the most modern, up-to-date techniques are being utilized to facilitate their overall health and wellness goals.

Drs. Brian and Julie Bird and staff, look forward to providing you with excellent service and natural health care through chiropractic treatment and therapy.